Call or live chat with 311 to request a change of commercial on-street parking duration restrictions 
At the request of a business, a petition package will be provided by the City to a business owner. The requesting business owner must take the petition to all neighboring businesses affected by the restrictions and have the owners sign if they are for or against the petition.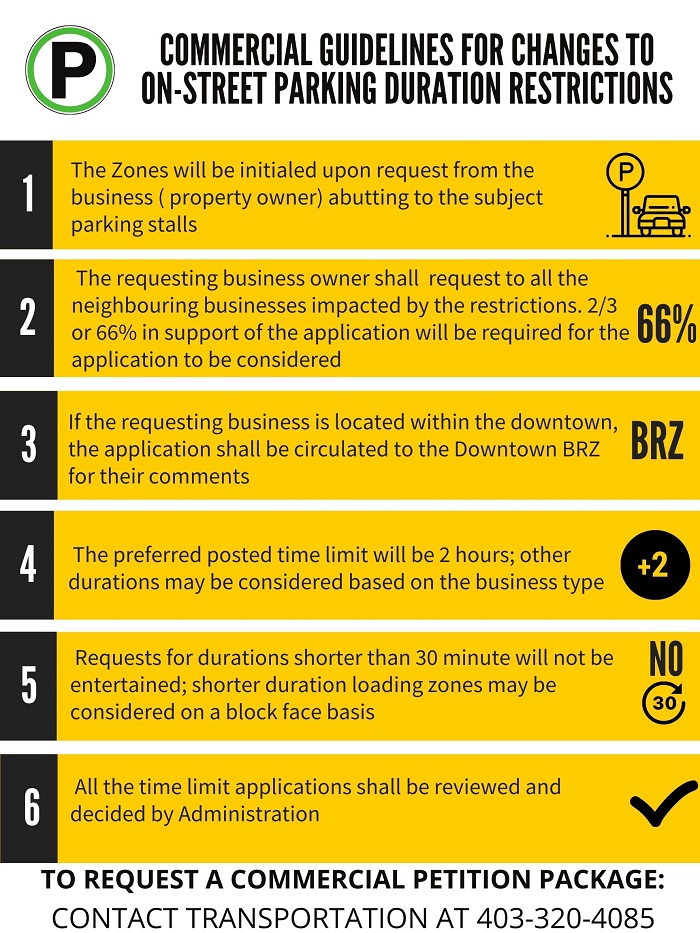 Note: The petitioner/business who deems the change necessary, will also be responsible to pay for the cost of signs and installation. These signs become the property of the petitioner/business; however, the City will be responsible for maintenance and retain control of the signs. For more information regarding cost, guidelines and other details contact 311
Enforcement of timed commercial parking areas 
Enforcement of timed on-street Commercial Parking Areas is provided by Regulatory Services. If you have an issue with the enforcement on your street in an Commercial Parking Area, please contact Regulatory Services by calling or chatting with 311.
Contact Us
City Hall
910 4 Avenue South
Lethbridge, AB T1J 0P6
Phone: 311
or 403-320-3111 (if outside of Lethbridge)