City aims to curb contamination with green cart contest
City aims to curb contamination with green cart contest
More than 33,000 households have the chance to win $500 to their favourite local Lethbridge business. How can you be entered to win? Just show a little 'curbside enthusiasm' for the green cart program.
As a way to engage and support residents learning about the new curbside organics program, the City is holding a month-long contest. Residents are asked to complete a set of tasks related to their new green cart. In return, they will have an opportunity to win one of four sustainable weekly prize packs or one of 10 $500 gift cards to a Lethbridge business of their choice.
"Our ultimate goal is to divert waste from our landfill and achieve low contamination rates in what we collect from residents," says Mandi Parker, General Manager of the Waste & Environment department. "This initiative will increase the knowledge about what can and can't go into the green carts. It also rewards residents who are learning a new way to reduce their household waste. Partnering with the local business community to offer prizes is an added bonus and makes this initiative a real win-win for the community too."
The contest kicks off on Tuesday, May 16, with details being released weekly on the City's Facebook page as well as on the newly re-launched website,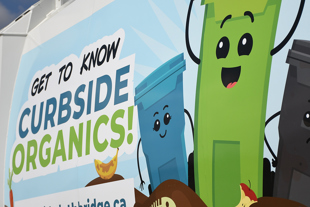 .
"We'll be asking residents who received a green cart to do some simple tasks that contribute to the overall success of the curbside organics program," says Steve Rozee, Processing Manager, Waste & Environment department. "Examples are writing their house number on the side of their cart, using the Waste Wizard to identify which materials go in which carts and sending us a photo of organic material in their kitchen pail."
Once residents have completed the weekly task, they'll be asked to submit proof of completion via the 311 Chat function at Lethbridge.ca. This will allow the City to confirm the resident's utility number and verify their details should they be drawn as one of the lucky winners.
The contest is being funded through existing dollars to promote, educate and advertise to residents about the new curbside organics program. By using a new approach to engage residents in learning about the program, the Waste & Environment team aim to see positive results.
"We know asking people to change their behaviour is a tough sell so we're trying something new to help support them with this change," says Rozee. "We've seen considerable success using this approach in a previous project, the Lethbridge Loop app. We had more downloads of the app in six months than other North American municipalities saw in three years. We've still used traditional advertising and marketing to share information with residents, but this gives us another way to reach residents and support them in adapting to this change."
The City has partnered with the Chamber of Commerce and the Downtown BRZ to support the contest which will see $5,000 injected directly into local businesses.
"We're thrilled to see the City supporting local and giving residents a choice about where they'd like to spend their winnings," says Cyndi Bester, CEO of the Lethbridge Chamber of Commerce. "It's an opportunity for businesses to welcome new or returning customers through their doors while supporting an initiative that will reduce waste and support a more sustainable future for our community. We look forward to working with the City to educate and engage consumers and businesses about this new program, so everyone can make the most of this new opportunity."
Winners can spend their $500 gift card directly through their business of choice or through the Downtown BRZ, who can then disburse the amount across as many as five businesses in their membership.
"While some winners may want to spend their $500 at one business, others may like to spread their dollars across a few different businesses," says Sarah Amies, Executive Director of the Downtown BRZ. "Partnering with the City to keep these dollars local and highlighting the benefits of diverting waste from the landfill is a great way to engage our community in change."
Contest winners will be contacted directly at the conclusion of the contest in mid-June and will need to comply with the City's standard contest terms and conditions.
For those residents who are yet to receive their cart as they live in an apartment or condominium with communal collection, they'll also have a chance to win. The City will be holding a similar contest for those residents once phase three of the curbside organics program has been completed. Phase three is expected to start this fall.
Lethbridge is a paper-only community meaning no plastic bags are accepted in the green carts. Plastics, even those labelled biodegradable/compostable are not permitted. Compostable and biodegradable plastic products are not well regulated and the compostability of each brand varies. These products can cause operational problems, may not break down properly during processing, and may contaminate the finished compost. Residents can refer to their user guide which was delivered with their green cart or visit curbside.lethbridge.ca to see a full list of the Ins and Outs of the curbside organics program.
The first city-wide green cart collection starts tomorrow, Tuesday, May 16 with weekly collection until the end of October. Green carts will be collected on a different day to the blue and black carts. Residents can confirm their green cart collection day here or by downloading the free smartphone app, Lethbridge Loop.
Check out the Curbside Enthusiasm contest FAQ's here.
For Public Inquiries:
Call 311 | Monday to Friday, 8 a.m. to 4:30 p.m.
Contact Us
City Hall
910 4 Avenue South
Lethbridge, AB T1J 0P6
Phone: 311
or 403-320-3111 (if outside of Lethbridge)