City buzzing with excitement after being declared a Bee City
In celebration of International Pollinator Week, the City of Lethbridge is excited to be officially declared a Bee City by Bee City Canada! Bee City is a signature program of Pollinator Partnership Canada (P2C), a national organization dedicated to the protection and promotion of pollinators and their ecosystems through conservation, education, and research.
During the Lethbridge City Council meeting of May 2, Councillor, Jeff Carlson, put forward a motion to ask Administration to apply for the Bee City designation.
"I am thrilled to learn of our newly appointed Bee City designation," says Councillor Carlson. "I applaud the efforts of those residents and staff who helped us to reach this point and for everyone's passion in helping our pollinators."  
As part of the Bee City commitment, residents will find various opportunities to connect with educational activities related to pollinators and their habitat, during International Pollinator Week on June 19-25.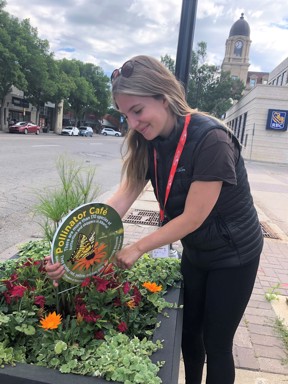 The Helen Schuler Nature Centre is celebrating Pollinator Week with a wide range of locally focused pollinator habitat resources available as part of the Climate Action Station in the current exhibition Sustain-o-topia: Thriving in our Changing Climate. The Action Station, a key part of the exhibition, encourages visitors to try activities designed to improve our community for both people and wildlife. The exhibit is open daily through the summer: Tuesday through Friday 9 a.m. – 6 p.m. and Saturday through Monday 10 a.m. – 6 p.m. Admission is by donation.
"It is amazing to see how inspired visitors are with each of the different takeaways available at the Action Station," says Paige Rosner, Environmental Education & Community Projects Lead, Helen Schuler Nature Centre. "We are excited to feature many of our pollinator resources during this important international week."
Opportunity Lethbridge and Lethbridge Parks are launching Pollinator Week with the return of the Pollinator Cafés. Visitors to the downtown can enjoy the unique atmosphere of shopping, dining, parklet seating and public art, while also taking in the beauty and functionality of the Pollinator Café planters.
"The Pollinator Café program was so well received in 2022," says Jackie Cardinal, Natural Resources Coordinator, Parks & Cemeteries department. "It is exciting to see them back in 2023, with even more locations across the city."
Unique and fun signage helps to round out the Pollinator Café experience. QR codes on the planters provide links to more information about citizen science programs related to monitoring pollinator populations and health. Planting guides, specific to container gardening, are also available for download for those interested in expanding the Café Project to their own homes, yards, or balconies.
For Public Inquiries:
Call or Chat 311 | Monday to Friday from 8 a.m. to 4:30 p.m.


Contact Us
City Hall
910 4 Avenue South
Lethbridge, AB T1J 0P6
Phone: 311
or 403-320-3111 (if outside of Lethbridge)