City delivers delicious partnership to support curbside organics
Residents who frequent one of the city's most well-known restaurants will see a green reminder with their pizza this month.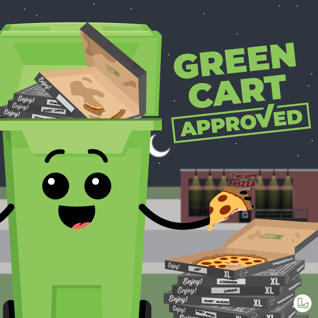 The City of Lethbridge has partnered with Two Guys & a Pizza Place to help residents learn more about the curbside organics program.
"Partnering with local business is one more way we're trying to reach residents and support them in learning about their new green cart," says Mandi Parker, General Manager of the Waste & Environment department. "Two Guys pizza is not only a recognizable brand that is quintessentially Lethbridge, but Cory and his team produce a lot of organic and compostable products which is a great fit for green carts too."
Customers will see a large 'Green Cart Approved' stamp on the inside of their pizza boxes throughout May to remind them where to put it once they're done.
"Supporting the community we are a part of is something we really value as business," says Cory Medd, owner Two Guys & a Pizza Place. "Our mission has always been to provide great pizza with exceptional service, and if we can do that in a more sustainable way, that's even better. I'm certainly hoping there's not a lot of leftover pizza to throw out, but this is a great way to remind people about where their empty pizza box can go and keep it out of the landfill."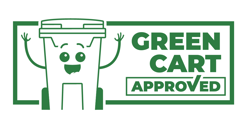 The green cart approved stamp is available to any Lethbridge business who has organic consumables and wants to participate. The only criteria to request a stamp is the business needs to have or be working to implement their own organic waste diversion plan. There is a limited number of stamps available, and the stamp can be used for up to one month at a time.
"The City's collaboration with local businesses on the curbside organics program is an excellent step forward," says Cyndi Bester, CEO of the Lethbridge Chamber of Commerce. "This partnership offers a remarkable opportunity for businesses to showcase their commitment to sustainability and contribute to a more sustainable future for our community."
Businesses who want to be involved in the green stamp program are asked to connect with 311. They'll be connected with staff from the Waste & Environment department who can walk them through the program and confirm their eligibility.
To celebrate the partnership, residents can win one of five Two Guys Go Green prize packs. To enter, residents are invited to take a photo of organics in their green cart or kitchen pail with their answer to this question: Are plastic bags, even those labelled compostable/bio-degradable, accepted in the green cart? Residents can email their photos and answer to contest@lethbridge.ca to enter.
The winners will be drawn at random and entries close on Friday, May 12, 2023. Winners will be contacted directly via email and must comply with City's standard contest terms and conditions.
The first city-wide green cart collection kicks off on Tuesday, May 16. The Lethbridge Loop app collection schedule will be updated on May 12 to reflect the green cart collection dates.
The green cart will be collected weekly from May to October and bi-weekly from November to April. Green cart collection will take place on a different day than your blue and black carts. 
Your blue cart and black cart will continue to be collected on alternating weeks on your regularly scheduled day of the week.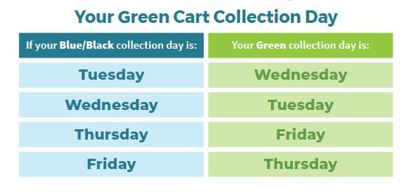 For Public Inquiries:
Call 311 | Monday to Friday, 8 a.m. to 4:30 p.m.
Contact Us
City Hall
910 4 Avenue South
Lethbridge, AB T1J 0P6
Phone: 311
or 403-320-3111 (if outside of Lethbridge)