Community invited to take part in Jane's Walk this week
Join us for the annual Jane's Walk festival in Lethbridge May 5-7!
Jane's Walk is a global pedestrian-powered movement of neighbour-led walking tours inspired by urbanist Jane Jacobs. This is a free community event.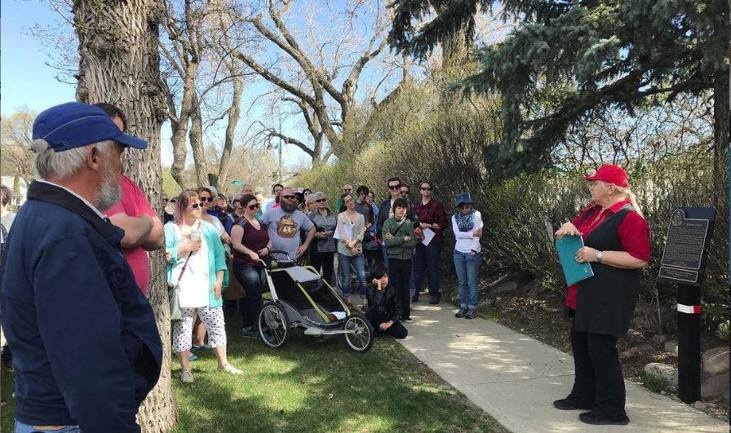 The purpose of the walk is to encourage people to get out on the streets of their neighbourhoods to discover unseen, under-celebrated and unique stories about their city. Through the simple act of walking together and discussing what makes a neighborhood, Jane's Walk helps knit people together into stronger and more resourceful communities.
Details for this year's walk:
Friday May 5, 2023
Downtown Public Art Walk – 4 p.m.
Join this walk to explore the installed public art works throughout Downtown Lethbridge.


Saturday May 6, 2023
London Road Beauties: The old, the new and the renovated – 10 a.m.
Join this walk to explore a range of interesting homes of all ages and styles.
Jane's Walk: Meeting plant families in London Road – 10 a.m.
Join this walk to explore how the plants around us (those we plant and those that come on their own volition) can help us (re)connect to the local stewards of these lands as well as our ancestral roots, values, and traditions.
Jane's Walk: Tour of the Waste & Recycling Centre – 3 p.m.
Join this event to tour the Waste and Recycling Centre, including the new award-winning Organics Processing Facility and learn how the Curbside Organics Program works behind the scenes. Registration is required for this event and you can register here.
Sunday May 7, 2023
Jane's Ride: Designing a climate resilient city – 2pm
Join this event to learn about a range of climate resiliency projects happening in our city, from solar installations to native grass landscaping. This will be a slow-paced bike ride, all skill levels welcomed.


Detailed walk descriptions, times, and meeting locations can be found here and here.
For Public Inquiries:
Call 311 | Monday to Friday, 8 a.m. to 4:30 p.m.
Contact Us
City Hall
910 4 Avenue South
Lethbridge, AB T1J 0P6
Phone: 311
or 403-320-3111 (if outside of Lethbridge)