Fire Chief branches out to support 1,000 trees in 2023
Away from the heat of leading the City's Fire and Emergency Services department, Fire Chief Greg Adair can be found digging, planting and watering his way to a greener future at home.
"I'm sure like many folks in the city, we're always looking to improve our yard with more greenery and shade," says Adair. "Apart from the obvious environmental benefits having trees provides, we find it supports our mental health in a few ways too. Taking care of the yard is kind of a meditative practice and it is a great way to wind down after a busy day at work."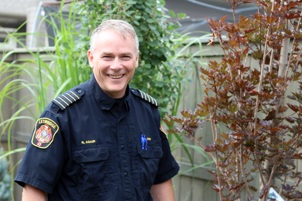 Chief Adair and his wife Kirsten are encouraging others to support the Helen Schuler Nature Centre's 1,000 Trees in 2023 campaign.
"We planted quite a few new trees this spring to help fill out our backyard," says Kirsten. "When Greg told me about the 1,000 Trees campaign, we jumped on board and registered all of them. I had some fun coming up with names for the new green additions in our yard and it was a really easy process."
Planting trees offers many great benefits to the ecosystem including providing food and habitat for hundreds of local fauna. Trees also help to reduce the heat in your home by providing natural shade and cooling effects which can lower the cost of cooling costs during the summer months.
"Trees offer so much to our community! They boost biodiversity which makes our city more resilient to climate change. They help manage stormwater and erosion, clean the air and create cooling microclimates that make life in the city more enjoyable," says Paige Rosner, Environment Educational Program Coordinator, Helen Schuler Nature Centre. "We also want to help people choose the right tree for the right place."
The Nature Centre has a fantastic and free Tree Guide available which outlines some of the trees which are ideally suited to our southern Alberta climate. The guide was developed in partnership with the City's Parks & Cemeteries department and is an ideal tool to help residents find relatively low-maintenance trees that are built to survive in our city.
"The big trees we enjoy today were planted many years ago by residents just like us," says Rosner. "We want residents to plant a tree, register it with our tree registry and help us reach this goal."
While Chief Adair credits Kirsten as the gardening-guru of the family, he said he still puts in some sweat equity to help maintain it.
"I get to dig all the holes and install the sprinkler lines," laughs Adair. "But I also get to reap the benefits of having a beautiful space to relax in with my family, it's a pretty good compromise."
Residents can learn more about the 1,000 Trees in 2023 campaign and register their trees at nature.lethbridge/1000trees.
Contact Us
City Hall
910 4 Avenue South
Lethbridge, AB T1J 0P6
Phone: 311
or 403-320-3111 (if outside of Lethbridge)