Have green cart questions? We have answers!
The City of Lethbridge is hosting two open house events to help support residents with curbside organics information over the next week.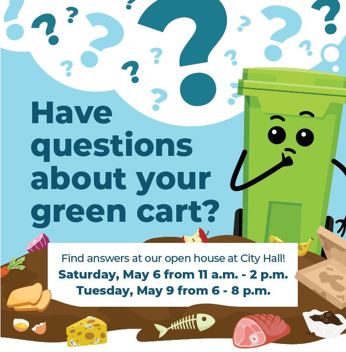 Residents who want to learn more about their new green cart are invited to join the events.
When:
Saturday, May 6 from 11 a.m. – 2 p.m.
Tuesday, May 9 from 6 – 8 p.m.
Where:
City Hall atrium,
910 – 4th Avenue South, Lethbridge, T1J 0P6
The delivery of green carts to residents who currently receive black and blue curbside collection has been ongoing over the past two weeks. More than 50 per cent of the city has now received their green carts, with final delivery expected to wrap up by May 12.
The first city-wide collection starts the week of May 16. Residents will see their green carts collected weekly until November when they will be collected bi-weekly until April.
Residents are encouraged to sign up for the Lethbridge Loop app to received collection reminders as well as street sweeping and snow route notifications. The green cart collection schedule will be added to the Loop app on May 12 once final delivery of carts has been completed.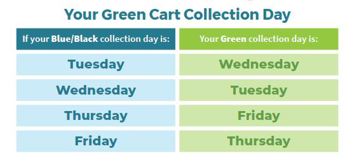 For all green cart questions, residents can find answers 24/7 at the curbside.lethbridge.ca website or here.
For Public Inquiries:
Call 311 | Monday to Friday, 8 a.m. to 4:30 p.m.
Contact Us
City Hall
910 4 Avenue South
Lethbridge, AB T1J 0P6
Phone: 311
or 403-320-3111 (if outside of Lethbridge)