Partial lane closures on Scenic Drive southbound lanes & traffic signal work
Residents and commuters who take Scenic Drive south should note partial lane closures starting Wednesday, September 20. Crews are completing repairs in the southbound lanes and are expected to be completed by the end of the day on Thursday, September 21.
Motorists should also note emergency work is being done on the traffic signals along Scenic Drive South and the 5 Street South intersection on Thursday, September 21. Traffic lights will be off and the intersection should be treated as a four-way stop by motorists. Stop signs and lane signage will be in place to control the flow of traffic and the signal work is expected to be completed by the end of the day.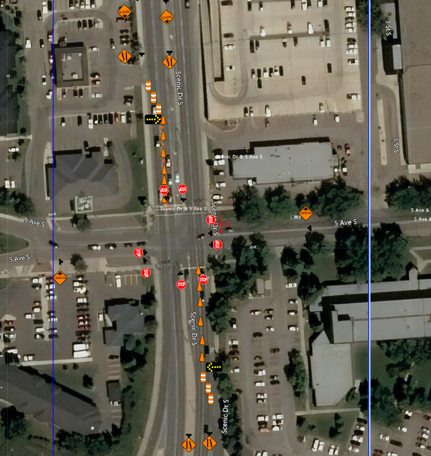 The work is anticipated to take place between 7 a.m. and 5 p.m., weather permitting.
Motorists are advised to drive with caution and observe the on-site posted speed and all other construction signs and posted detours.
Find City of Lethbridge road and facility closure notices here.
For Public Inquiries
Call 311 | Monday to Friday, 8 a.m. to 4:30 p.m.
Contact Us
City Hall
910 4 Avenue South
Lethbridge, AB T1J 0P6
Phone: 311
or 403-320-3111 (if outside of Lethbridge)