Teaching waste diversion through play
What initially started as way to explore creativity outside of caring for her two children, has become a labour of love for one Lethbridge resident. 
Courtney Ford Eldridge has used her passion for creativity and the environment to create an educational game that combines tactile play and learning. Sensory bins are hands-on tools for children that engage their senses like touch, smell, taste and sound. They can be made up of a variety of everyday materials and can be used to help children understand the world around them.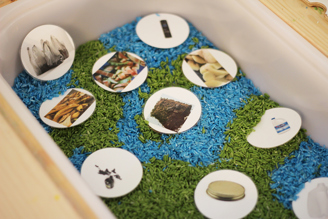 Originally created for her two children, Jubilee, four and Oscar, two, to explore and learn with, she now offers them to the community too. Ford Eldridge's Earth Day sensory bin recently caught the attention of Waste & Environment staff at the City. The sensory bin shows children which cart their household garbage, recyclables and now organic waste goes in.
"I try to have a new theme and bin regularly to keep the kids engaged and excited," says Ford Eldridge. "Oscar loves putting the little pictures of different garbage into the carts and gets it right almost all of the time now too."
When their green cart arrived last month, Ford Eldridge said both Jubilee and Oscar were both thrilled.
"They immediately wanted to put leaves and food scraps in it and were telling me what I could and couldn't put in," she laughs. "It was great to see them so excited about doing something kind for the environment."
Oscar, not wanting to be left out of the fun, also had a message for Lethbridge.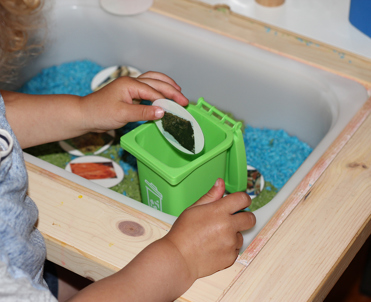 "You just have to put things in the right bins. You have to take care of the earth."
In addition to the tactile materials she uses in her sensory bins, Ford Eldridge also supports the theme with books to read with Jubilee and Oscar. Often borrowing from the Lethbridge Public Library, they always find new stories to explore and learn with.
Contact Us
City Hall
910 4 Avenue South
Lethbridge, AB T1J 0P6
Phone: 311
or 403-320-3111 (if outside of Lethbridge)