Welcome home; Community comes together to support newcomers
Collaboration and community are at the heart of a partnership which has seen several City departments and community partners work to create a warm 'welcome home' to new immigrants.
Partnering with Lethbridge Family Services, staff from the City have been developing an interactive day of programming to welcome newcomers. Staff from the Helen Schuler Nature Centre, Transit, Community Social Development, the Lethbridge Public Library and Recreation & Culture have all been involved in this heartwarming and rewarding initiative.
The collaboration of several City departments was initially sparked by a donation from the Friends of the Helen Schuler Nature Centre Society. The not-for-profit organization covered the programming costs of the first welcome to newcomers' event which occurred late last year. After reflecting on what changes could be made to ensure the program could continue, the Helen Schuler Nature Centre team started to involve more City departments.
Approximately 50 attendees from 10 different countries, including: Syria, Sudan, Afghanistan, Nigeria, Myanmar, Venezuela, Chad, CRO Congo, Somolia, and Eritrea recently took part in an interactive day of fun. The ages of program participants, who now call Lethbridge home, range from newborn babies to adults in their mid-fifties.
Mohammad & Susan Noor Zai and their three children arrived in Lethbridge three weeks ago. They arrived from Afghanistan along with Mohammad's two sisters, Deena and Diana.
"The best part of the day has been meeting all of the people at the different places we've toured and who are also new here too," said Susan via a Lethbridge Family Services interpreter. "There's lots of different things to do here and places we can go as a family." 
Mohammad & Susan's three young children, Zulaikha aged 5, Zainab aged 3 and Subhan aged 2, enjoyed lunch in the community room at the Nature Centre, as participants chatted about the day so far and what was to come next.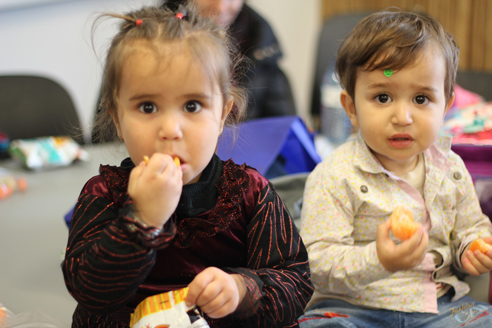 Zainab aged 3 and Subhan aged 2, enjoyed lunch in the community room at the Nature Centre.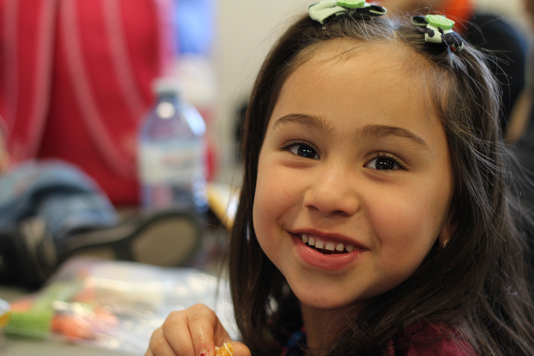 Jessica Deacon-Rogers, Program Coordinator at the Helen Schuler Nature Centre, says the event gives new residents an opportunity to connect with nature.
"Introducing newcomers to the kinds of flora and fauna in our beautiful river valley is both an exciting opportunity but an important one too," says Deacon-Rogers. "We take the groups outside and do activities that are very accessible, both in terms of physicality but financial accessibility too. Many newcomers aren't familiar with the types of animals and plants we have here, which means they are often hesitant to explore our river valley parks. We introduce them to different types of flora and fauna found here in the city, how to interact with our local environment so it is safe for both people and wildlife, and share some of the many different activities they can enjoy in City of Lethbridge parks."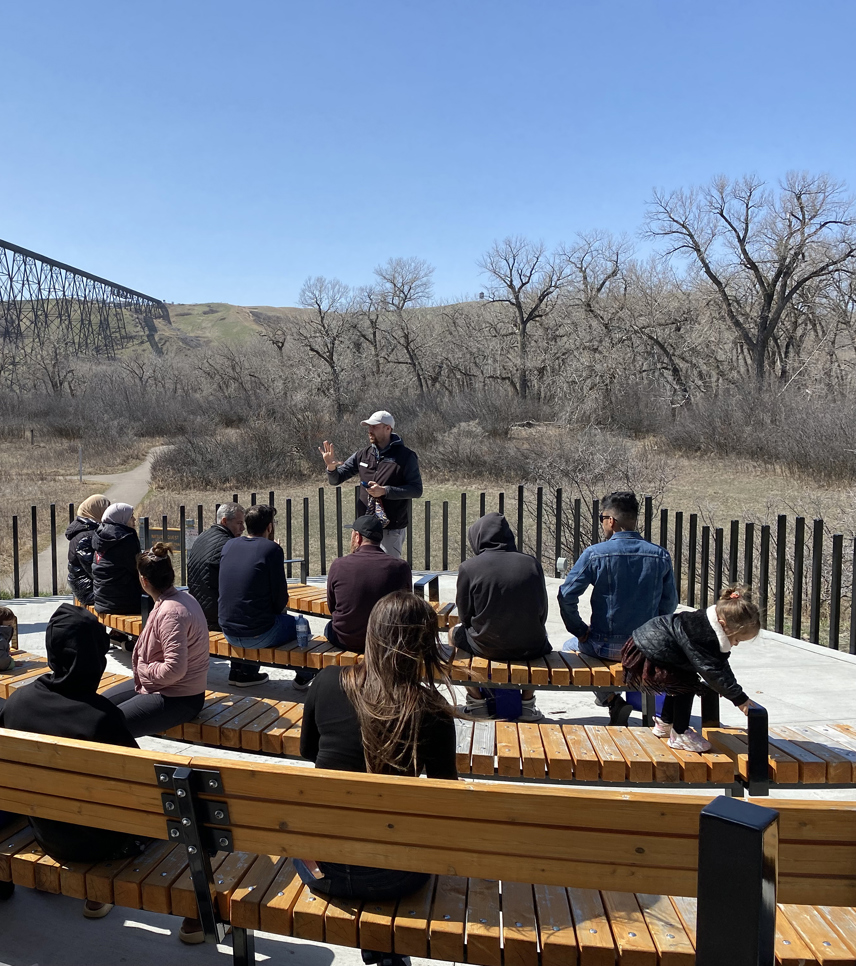 This is the second time the City has partnered with Lethbridge Family Services to host this event and the goal is to offer it twice a year. With events in winter and spring/summer, the seasonal approach to programming means newcomers can find opportunities to connect with nature year-round.
"For many people, Canadian winters are very different from their own experience," says Deacon-Rogers. "We go over activities you can do outside during winter and how to dress for the weather too. Things we may not think to talk about with someone who has moved from another province or North American city."
Lethbridge Family Services has worked hard to develop the experience for newcomers to ensure it's both informative but accessible too.
"In the past, particularly during the winter months, it's been a challenge to coordinate travel and get everyone to the Nature Centre," says Mikey Ward, Youth Settlement Coordinator. "In partnering with the City, we now take a Transit bus down here and take a tour of the Park and Ride facility and go over how to ride the bus. It's been a good way to show new families how to navigate public transit and get to City facilities like the Nature Centre and the Cavendish Farms Centre."
Before they arrived at the Helen Schuler Nature Centre for lunch and an afternoon of connecting with nature, newcomers took a tour of the Cavendish Farms Centre. The City's fee assistance program also supports refugees in being able to access many programs and services they may not have been able to afford otherwise.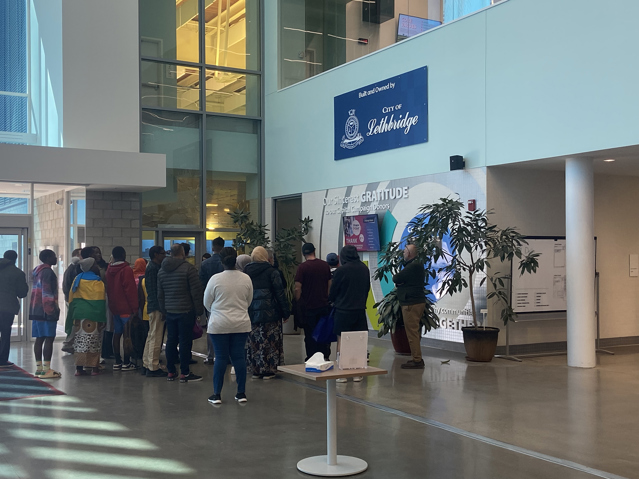 Several community-based organizations also partnered to help make the day successful. Lethbridge Sport Council loaned the Nature Centre their outdoor game equipment. These organizations help to show newcomers the variety of resources and programs available to help them settle into their new home.


For Public Inquiries:
Call 311 |  Monday to Friday, 8 a.m. to 4:30 p.m.
Contact Us
City Hall
910 4 Avenue South
Lethbridge, AB T1J 0P6
Phone: 311
or 403-320-3111 (if outside of Lethbridge)