Whoop-Up Drive accident causes road damage
An accident on westbound Whoop-Up Drive this afternoon has caused significant damage to the asphalt and will require repair before all lanes can re-open.
Whoop-Up Drive remains closed at 5 Street South but crews have now opened a single lane westbound accessible from the Scenic Drive off ramp. Motorists will be detoured from 6 Avenue South to 5 Avenue South, via 5 Street South, to access the Scenic Drive off ramp. From here, a single lane will remain open while repairs are being made (see map).
Traffic controls are in place to direct traffic in this area, please drive with caution.
Motorists using westbound Whoop-Up Drive can expect on-going delays due to the single lane of traffic. Crews are hoping to have the repairs made by mid-day tomorrow so all lanes can re-open. The speed limit along Whoop Up Drive Westbound has been lowered to 60 km/hr.
Eastbound traffic on Whoop-Up Drive is unaffected and the speed limit remains at 90 km/hr.
The emergency gates built to flow traffic into the opposite lanes, when needed, will not be opened at this time because a single lane of traffic is now accessible on Whoop-Up and Crowsnest Trail is open. These gates were built to be used when no lanes of traffic were available for an extended period (four or more hours). Opening the gates would also limit traffic flow in the eastbound lanes from West Lethbridge into the downtown tomorrow morning.
Motorists are encouraged to use Crowsnest Trail as an alternative and drive with caution, given the increased volume expected.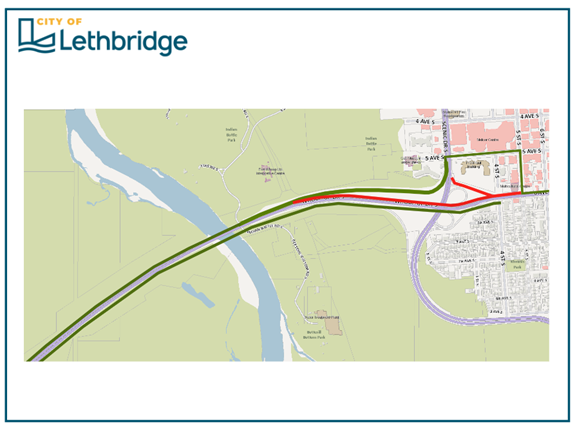 Contact Us
City Hall
910 4 Avenue South
Lethbridge, AB T1J 0P6
Phone: 311
or 403-320-3111 (if outside of Lethbridge)