August 2023 Mayor's Column
With Whoop-Up Days back in Lethbridge next week and hockey season right around the corner, we are now in the summer homestretch. And it is sincerely one of my favourite times of the year.
I'm happy to announce the return of the Mayor's Community Barbecue for a second year. It will take place on Tuesday, August 22, from 11:30 a.m. to 1:30 p.m. outside Lethbridge City Hall on 4 Avenue, following the Whoop-Up Days parade.
The first 1,000 people can enjoy a free burger or hot dog, chips and pop, as well as face painting for the kids. My good friend Trevor Panczak will again be performing a full concert on the steps of City Hall during the event.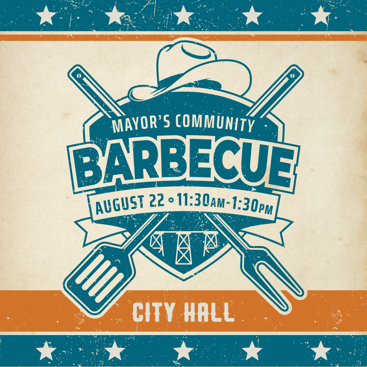 Thank you to our sponsors Lafarge, Mikado Electric, Smiths Custom Audio Video, Cedar Ridge Homes, Freddie's Paint and Copy Express for helping make this happen.
The barbecue was such a huge success last year that I had to bring it back again. I was very encouraged by the response in 2022, as their feedback really lined up with my goal of making the barbecue and concert a real community celebration to focus on all the great positives we have going on in Lethbridge. I encourage you to avoid the post-parade traffic and come down to enjoy live entertainment and a free lunch.
As with Whoop-Up Days tradition, there will be a number of other breakfasts and barbecues taking place all week. Our friends at Tourism Lethbridge have compiled a list you can view here: https://tourismlethbridge.com/upcoming-events/page/3
A big showpiece at this year's Whoop-Up Days will of course be the new Agri-Food Hub and Trade Centre at the Lethbridge and District Exhibition. On behalf of Lethbridge City Council, I again want to congratulate everyone there on the recent grand opening of this magnificent facility.
The 268,000-square-foot Agri-Food Hub and Trade Centre is truly a marvel – and a world-class amenity – and will be a catalyst to attract new economic development, people and investment to our city and region. City Council approved part of the funding for this project and the decision was made in a prudent manner, as the dollars come from various funding sources and a combination of grants, reserves, internal and external borrowing, and the pay-as-you-go program. There is no additional impact on taxation to Lethbridge residents from this project.
The impressive building has state-of-art features and incorporates the site's history. As the Exhibition has been a community gathering place for more than 125 years, it has played a monumental role in the history of Lethbridge. I believe the new Agri-Food Hub and Trade Centre is poised to both continue this legacy while also leading the next phase in a storied history.
A big change coming starting September 5 – the first day of school for most in the 2023/24 school year – will be the new speed reduction zone harmonization. The new 30 km/h zones – combining existing School Zones to Playground Zones to create one zone – will be effective 7:30 a.m. to 9 p.m. every day of the year.
The primary goal is increased safety, plus having a fixed end time will be easier for motorists to remember as in-school days can vary and the current one hour after sunset varies with the season. This will also make Lethbridge consistent with municipalities in Alberta with existing Harmonized School and Playground Zones including Calgary, Medicine Hat, Red Deer, Edmonton and Coaldale.
People have seen new signage going up, but just a reminder that it takes some time to change them all and enforcement on the new zones begins September 5.
Applications for Lethbridge City Council's Boards, Commissions and Committees are now open until September 22.
Our BCCs provide City Council with information, advice and recommendations regarding important community issues and topics. Whether advisory, decision-making, quasi-judicial or governing, all provide members of the community an opportunity to participate and bring out the best in our city. Each public role provides an opportunity to participate in the present and future direction.
Please refer to the BCC toolkit and list of Boards, Commissions and Committees for more information on eligibility, length of term, meetings times etc. If you are interested in volunteering, please contact the Office of the City Clerk through 311 or email: committee@lethbridge.ca. Watch the 'Bring Out The Best In Our City' video here: https://youtu.be/TF4jAPk9p3A.
I want to thank everyone who contributed to the recent visit of our guests from Quebec as part of the Lethbridge/Saint-Laurent Senior Exchange 2023. The Lethbridge delegation will be travelling to Saint-Laurent from August 30 to September 4.
Congratulations this month to:
Brent Kisio. As the winningest coach in Lethbridge Hurricanes history, and an integral part of the franchise's turnaround, it was certainly bittersweet when he announced his departure. But I am thrilled for his opportunity to be an assistant coach in the American Hockey League, which may ultimately pave a path for him to get a shot at the NHL level
The Lethbridge Hurricanes, who are set to open their training camp on August 31 and will have their regular season home opener at the ENMAX Centre on September 22
The Lethbridge Bulls for an exciting season
All players and those involved with hosting the recent Canadian Junior Little League championships in Lethbridge
I try to keep up with community recognitions, but someone or some group will inevitably be missed. If you have a recognition to note, please contact the Mayor's Office here: https://www.lethbridge.ca/City-Government/City-Council/Mayor/Pages/default.aspx. I am always pleased to recognize all the positives in our community.
I hope everyone in our community has a great last few weeks of summer. And, as always, please be safe and kind to one another.
Contact Us
City Hall
910 4 Avenue South
Lethbridge, AB T1J 0P6
Phone: 311
or 403-320-3111 (if outside of Lethbridge)