Public Hearing - Land Use Amendment Bylaw 6366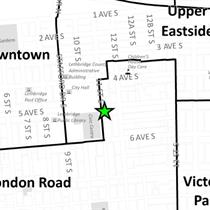 Notice Given: July 27, 2022
Notice Expires: September 13, 2022
Event Date: September 13, 2022, 3:00 PM
Location: Council Chambers, City Hall at 3:00 P.M.
What is this notice about?
​The proposed Land Use Bylaw amendment will allow the existing building's main floor commercial space to be repurposed to provide two additional residential apartments.
How can I participate?
Anyone may submit a written submission or give a verbal presentation to a public hearing. Your comments must include your first and last name. Written comments must be received before 12:00 P.M. the Monday, 8-days before the public hearing is scheduled.
Additional Information
​Questions regarding this Bylaw please contact: Ross Kilgour, Senior Community Planner
403-320-4237 or Ross.Kilgour@lethbridge.ca
Legal Address: Plan 4353S Block 60 Lots 1 and 2
Contact Us
City Hall
910 4 Avenue South
Lethbridge, AB T1J 0P6
Phone: 311
or 403-320-3111 (if outside of Lethbridge)