See Darth Blader and Snowzilla in action with new online snow plow tracking tool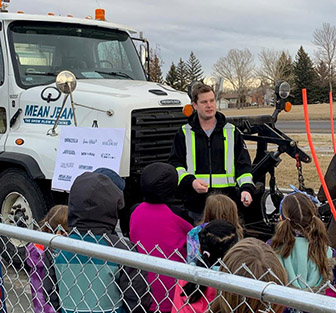 Planning your winter commute has become easier as the City of Lethbridge has introduced a new online snow plow tracking tool. With GPS technology, the online tracker map shows where the plow trucks are working around the city, and where they have been throughout the day.
Each plow truck on the map displays a name given to them by school children in a recent partnership with local school divisions.
"Residents can watch City operations in almost-real-time to help plan their commutes in the snowy weather," says Joel Sanchez, Director of Infrastructure Services. "It's a great educational tool for the community which we hope to roll out for other city vehicles in the future."
While this map can help get a clearer understanding of what to expect on city roadways during snow events, the best way to stay safe is to slow down, drive for the conditions, and make sure to give plows lots of room while they're working.
Phase 1 snow route enforcement begins February 1
With snow in the forecast, residents are reminded to watch for snow route activations along Phase 1 snow routes. When Phase 1 snow routes are activated, all vehicles must be moved out of parking lanes in those areas until the activation is lifted. So far this season, just under 1,500 courtesy reminders were distributed to non-compliant vehicles on active snow routes. Courtesy reminders gave users of these areas a chance to learn about the process. Beginning February 1, parking tickets will be used to enforce temporary parking restrictions on active Phase 1 snow routes.
"We hope that residents along Phase 1 areas will use the snow plow tracker as a tool to plan the snow removal around their sidewalks and driveways" says Juliane Ruck Transportation Operations Manager. "Being able to see where the plows are at and if they have completed a Phase 1 area will help residents to time and coordinate snow removal contractors, helpers or their own shoveling for when we have completed plowing."
When you see snow, make sure you know
The community is reminded to look out for the blue snowflake tab on snow route parking signs, and check the status of the snow route before parking this winter season. Find out more about this project, view snow route maps, access notification tools and provide feedback by visiting Get Involved Lethbridge: Snow and Ice Control Changes. Residents can also call or online chat with 311 with inquiries and comments related to this project.
Visit lethbridge.ca/snow or call 311 for more information on snow and ice control in Lethbridge.
Contact Us
City Hall
910 4 Avenue South
Lethbridge, AB T1J 0P6
Phone: 311
or 403-320-3111 (if outside of Lethbridge)