City navigates improved road safety for pedestrians, motorists and cyclists
Steering towards safety
As the summer sun winds down and school starts back up, residents may notice changes to their daily commute. The City of Lethbridge's Transportation Planning department has been working hard to increase safety across roads, streets and pathways in the city.
Improving overall safety for pedestrians, motorists and cyclists around the city stems from two plans. The Transportation Master Plan and the Transportation Safety Plan.
Inviting the community to take part in the development of both plans has been key to finding outcomes that work for our city says Transportation Engineering Manager, Ahmed Ali.
"Everyone wants to live in a community where they feel safe to walk, drive and bike safely," says Ali. "Community feedback is important in developing how we plan for the future when it comes to road safety and mobility. If residents feel safer in being able to navigate their neighbourhood, they're more likely to get out walk and explore."
One particular project where community feedback has been sought is school zone harmonization. Beginning on September 5, motorists will now see school zones converted to year-round playground zones with a 30 km/hour maximum speed limit from 7:30 a.m. to 9 p.m. daily.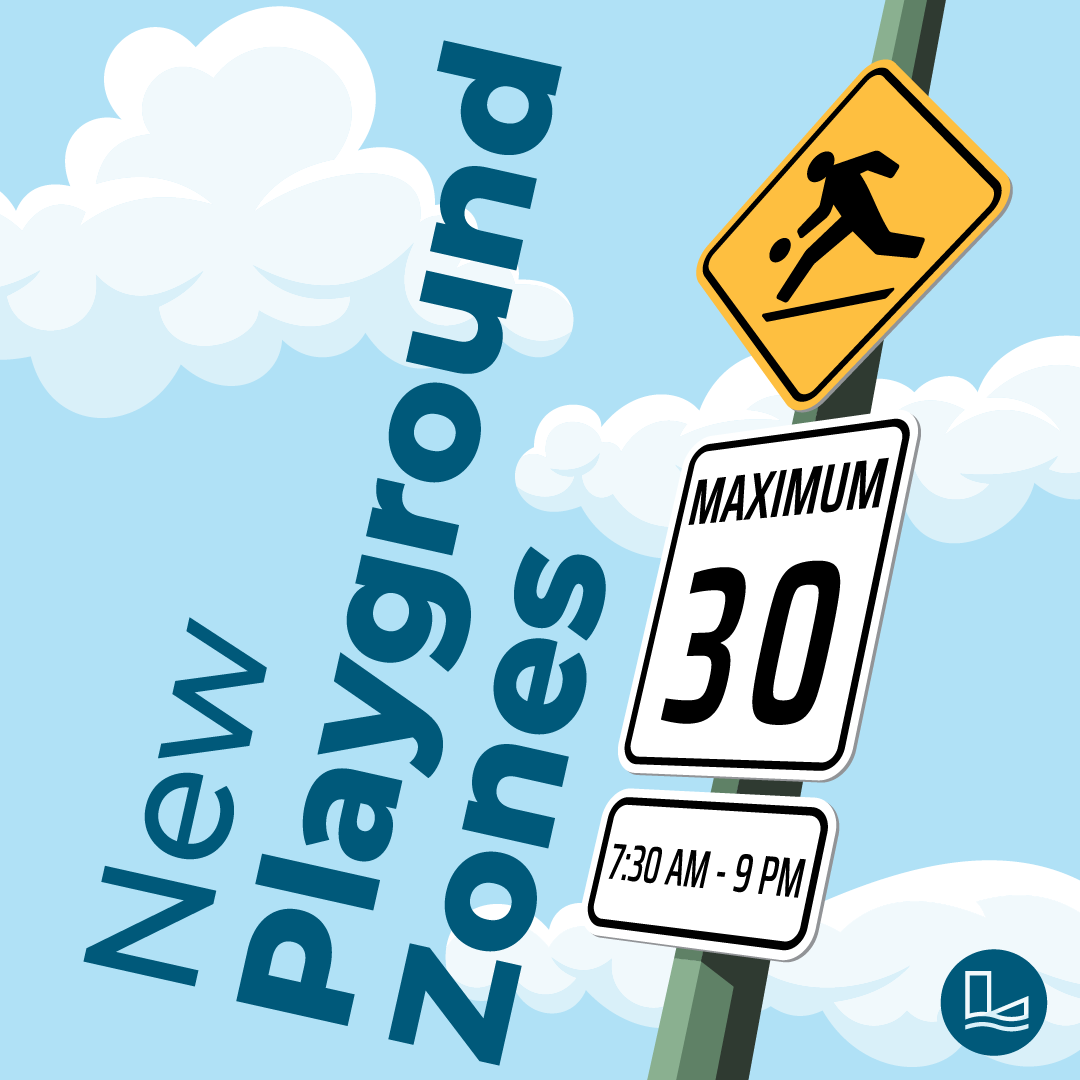 Prior to this change being made, the City heard from more than 2,000 residents about the project. "Research shows us that slower speeds make roads safer and that is especially important in areas where children are playing," says Ali.  
Another project where safety and mobility have been highlighted is improvements to accessible intersections. Audible push buttons are intended to be helpful for vision or hearing impaired people and are equipped with accessible features: 
A bright yellow color to clearly indicate where the button is
A locator tone to help people find the button
A large tactile arrow to help people determine which direction the button is associated with
Motion sensor on button to activate the crosswalk, hands-free
A red light that will confirm that the button was pushed
Additional features when the button is held down for 3 seconds:

User will hear a click sound to indicate that the additional features are activated
An audible "wait" message until the walk signal is active
An audible "cuckoo" for north-south crosswalks, and a "chirp" for east-west crosswalks
Pedestrians are given a longer crossing time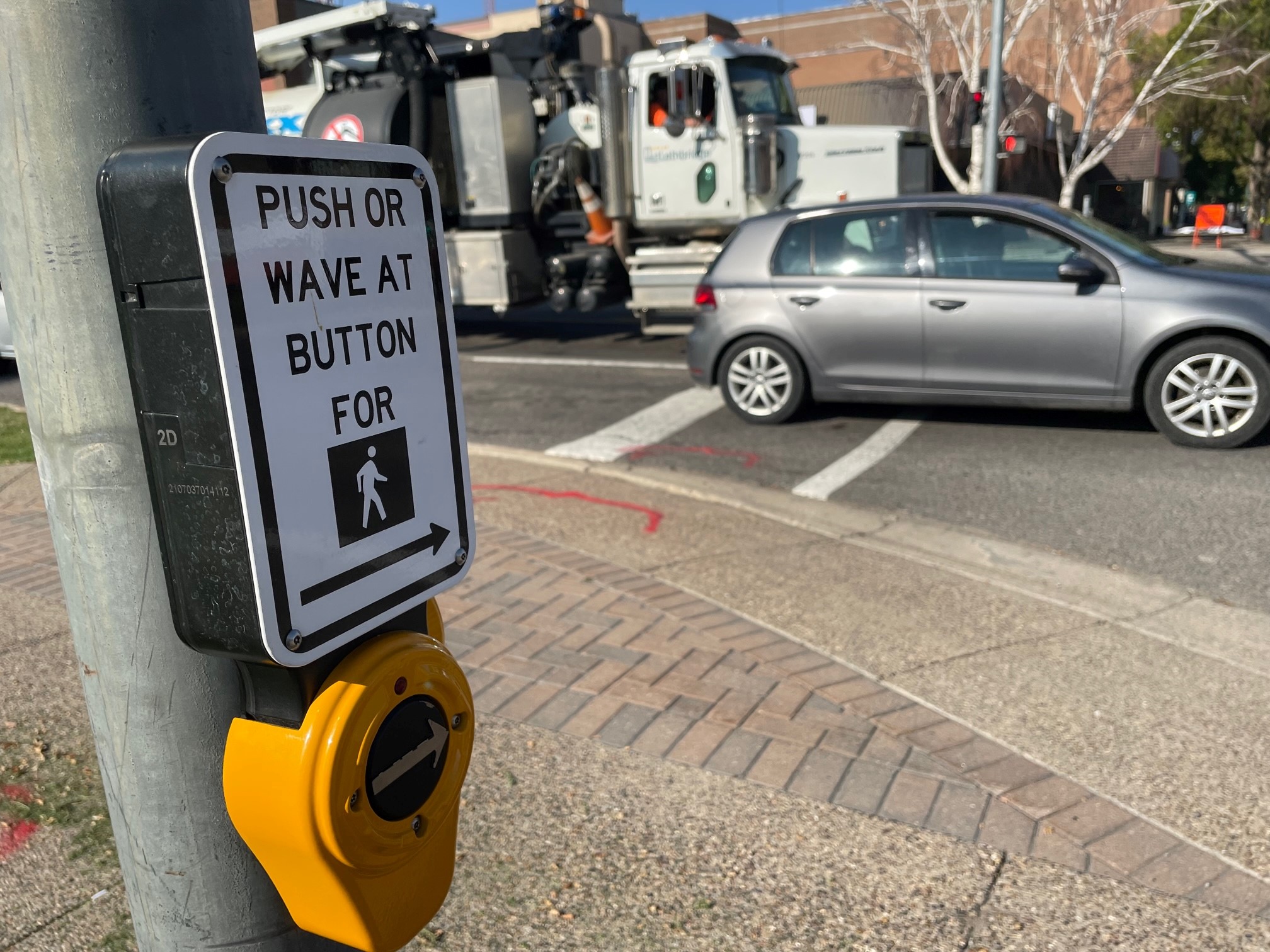 These safety features may also benefit other members of the community. "We know that some folks in our community would like a little longer to cross the street for various reasons," says Road Infrastructure Manager, Richard Brummand.  "These features can also provide comfort to those who prefer hand-free options in public spaces. These accessible crosswalk features could make a big difference to a lot of people." 
The City of Lethbridge has adopted a Mobility/Accessibility Master Plan that will provide direction to new developments, redevelopments, and planning initiatives to ensure equal access within the physical environment is provided to all residents of the city regardless of their ability. These accessible improvements have been made at several crossings around the city:
Completed the installation of 29 accessibility ramps;
Completed the installation of new Audible Pedestrian Signals requested from residents at 7 intersections; and
Completed programming 11 intersections to use the pedestrian mobile app to trigger the accessibility feature from smart phone app.
"No one gets excited about road construction, but when you see crews working on an intersection, know that it's all for the sake of making our community more accessible, safe and supportive to pedestrians," says Brummand.
In addition to the infrastructure upgrades and continuation of the cycling lanes in the downtown, the City has also made an investment in people resources.
"We have recently hired the City of Lethbridge's very first Traffic Safety Engineer," says Ali. "This position will aid us in identifying safety deficiencies and developing options to address safety concerns and enhance overall safety."
With future plans to further safety across the hundreds of kilometers of roads, streets and pathways, Ali says working with the community will continue to be a priority as planning progresses.
"A city with an active transportation network that has many modes of mobility for people of all levels of accessibility is a healthier community. We look forward to providing more ways for residents to get around and explore our beautiful city."
To learn more about City projects and opportunities to give your feedback, head to www.getinvolvedlethbridge.ca.
Contact Us
City Hall
910 4 Avenue South
Lethbridge, AB T1J 0P6
Phone: 311
or 403-320-3111 (if outside of Lethbridge)