Why build a play space in Galt Gardens?
We've been hearing concerns from residents about adding a play space to Galt Gardens. We understand there are questions about safety and cost. We wanted to help answer these questions and assure our community this project is based on both long-term planning and fiscal responsibility. The play space and other revitalization efforts are just one way in which we are working to address the challenges faced by our downtown.
Why Galt Gardens?
It might seem counter intuitive but years of research and evidence, from around the world, shows the best way to revitalize a community space it to attract more people and activity to the area. So, our goal is to bring more people and positive activity to Galt Gardens to help reduce the undesirable behaviour.
Why are we using taxpayers' money?
A federal grant, specific to reinventing outdoor spaces and increasing accessibility in downtown cores, has provided more than half (67 per cent) of the funding for this project. This was an amazing opportunity to use other funding sources and minimize the cost to Lethbridge taxpayers, while still working towards our goals of revitalizing downtown.
To help provide some additional context to the importance of this project, we checked in with our Urban Revitalization Manager for a quick Q & A.
Q: Have we seen this approach to revitalization work in other areas?
A: Absolutely! There are thousands of examples from around the world where communities have been successful in revitalization by adding new infrastructure and amenities like a play space. We're also seeing it happening right here in Lethbridge. Festival Square and the 3rd Avenue project are drawing so many cool event and activities attracting people to our downtown core. Check out this article about Placemaking concepts. Edmonton's Root 107 pop-up park, Anchorage's 144 Activities, and Milwaukee Downtown are all great examples of successful place-based urban revitalization efforts.
Q: What else is being done to improve safety at Galt Gardens?
A: We are working closely with other City departments, Lethbridge Police Service and our partners at the Downtown BRZ to make improvements everyday. Some of these changes include:
Reconfiguration of tables and seating options to minimize misuse
Fencing off trouble areas to reduce the opportunity for negative behaviour
Pruning trees to raise the canopy and improve visibility and cleanliness
Additional lighting
Better aligned security staffing hours to the needs of the park
Increased cleaning to two times a day to ensure the park is safe and tidy during daytime hours.
Continuing to work closely with LPS
Q: What was done in the design of the play space to improve safety?
A: The project was created using Crime Prevention Through Environmental Design (CPTED) principles. This includes clear sight lines, lighting, fewer structure and rubber surfacing as opposed to loose gravel or wood chips. Additionally, having it located next to the Rotary Fountain, which is frequented by many families each summer, will provide even more opportunities for play.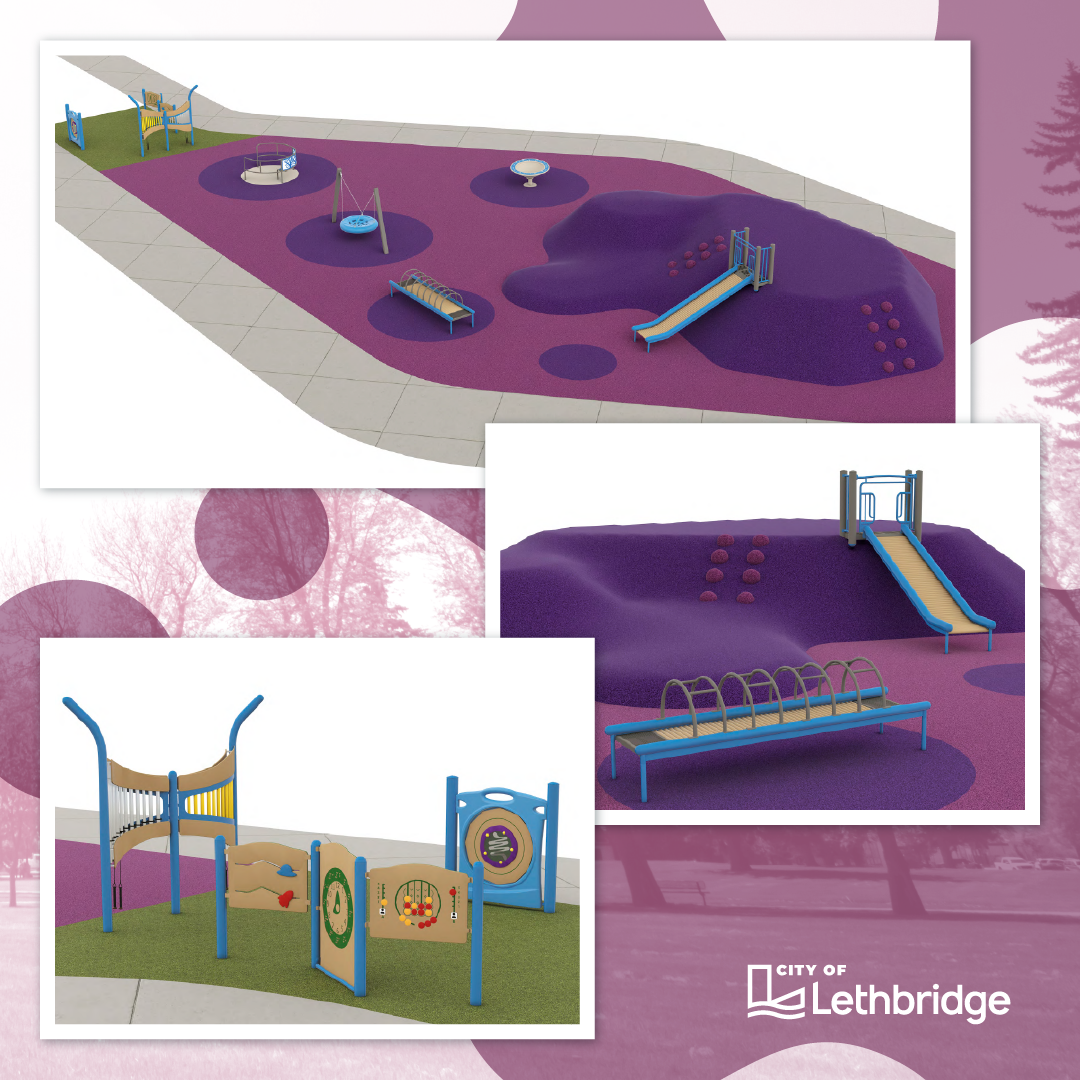 Q: Given the recent discovery of a drug laced candy in the park, is it safe to take my family there? 
A: Community awareness is important anytime there is a safety concern. LPS' notification to the public applies to anywhere young children are playing. As mentioned, we now have twice per day cleaning in Galt Gardens and in-park security throughout the summer to help keep the space safe for the entire community to use.
Q: What events can we expect in Galt Gardens this summer?
A: We are heading into the peak of summer events in Galt Gardens. Some of the big events the community can take in are, this weekend's Pride in the Park and the Canada Day celebrations and Street Wheelers Show and Shine in July. We also have the Centennial Rotary Fountain that families can enjoy all summer long.
Q: When will the play space construction be complete?
A: Construction will take place over the summer and we anticipate opening the new play space to families in the fall.
Q: What are the future plans for Galt Gardens?
A: In 2017, we completed a Master Plan for Galt Gardens that will help guide the future development of the park. One of the main recommendations out of that plan was to include more active amenities, like a play space so we are excited to see that work coming to fruition. We are also looking at ways to incentivize more events in the Park to help create a more vibrant space that can be embraced and enjoyed by all.
Q: What is the City doing about encampments?
A: While sheltering in parks overnight is not permitted by City Bylaw, we understand it does occur. The City's recently approved Encampment Strategy has resources in place to ensure parks are enjoyable to everyone and that vulnerable members of our community are connected to social supports and housing. To report a public safety issue, such as biohazard, needle debris and/or encampment residents should call 311 or visit www.lethbridge.ca.
Contact Us
City Hall
910 4 Avenue South
Lethbridge, AB T1J 0P6
Phone: 311
or 403-320-3111 (if outside of Lethbridge)