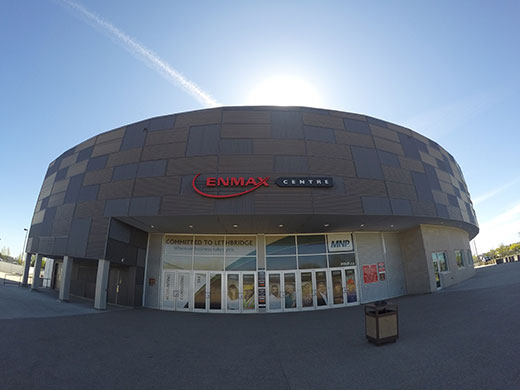 The ENMAX Centre​ was built as a lasting legacy to the 1975 Canada Winter Games. Over the past 35 years, it has played host to world class concerts, annual three ring circuses, multicultural events, national curling championships, international basketball, banquets, skating events and a major WHL franchise. 
We are the proud home of the WHL Lethbridge Hurricanes​. 
This all-purpose event centre features a full-size ice rink, 24 luxury box suites, a 225 seat lounge and full catering capabilities.
The facility seats 6,500 in reserve seating and 7,100 in festival seating. Standing room available for additional 800 people.​
Buy tickets online to events at the ENMAX Centre!
Ticket Centre Information
ENMAX Centre - 2510 Scenic Drive South
Mait Ticket Centre - NE Side of Building
Monday thru Friday 10:00am - 5:00pm
Saturday & Sunday: CLOSED
Please note: NW Ticket Centre is only open on event days.
Please note: Ticket Centre is open extended hours on event days.
Yates Memorial Theatre - 1002 4th Ave S (next to City Hall)
Monday thru Friday 10:00am - 5:00pm
*Event days to be determined*
Please note: All Ticket Centre locations are closed on the following statutory holidays* with the exception of an event day. 
*If the statutory holiday lands on a Saturday/Sunday, the Ticket Centre at all locations will be closed the following Monday with the exception of an event day.
New Years Day - January 1
Family Day - Third Monday in February
Good Friday - Friday before Easter Sunday
Easter Monday - Monday after Easter Sunday
Victoria Day - Monday before May 25
Canada Day - July 1
Heritage Day - First Monday in August
Labour Day - First Monday in September
National Day of Truth and Reconciliation - September 30
Thanksgiving - Second Monday in October
Remembrance Day - November 11
Christmas Day - December 25
Boxing Day - December 26
Payment Methods / Telephone Services/ Online Services 
By Telephone: (403) 329-7328 - VISA, AMEX, or Mastercard 
In-person: Cash, Cheques*, VISA, AMEX, Mastercard or Interac 
Online: VISA, AMEX, or MasterCard
*Cheques will be accepted for Groups and Businesses only. Cheques must be made payable to "City of Lethbridge"*
Ticket Inquiries
For all ticketing inquiries please contact the Ticket Centre by phone 403-329-7328, email
ticketinfo@lethbridge.ca
, or in person. 
Lethbridge Hurricanes
For any information regarding the Lethbridge Hurricanes please visit the Hurricanes office located in the West parking lot of the ENMAX Centre or the Ticket Centre at the Yates Memorial Theatre: Phone: 403-328-1986 or 
www.lethbridgehurricanes.com
. 
Contact Us
City Hall
910 4 Avenue South
Lethbridge, AB T1J 0P6
Phone: 311
or 403-320-3111 (if outside of Lethbridge)