South Saskatchewan Regional Plan
The South Saskatchewan Regional Plan is an output of the Province's Land Use Framework and covers land within the South Saskatchewan River Basin including the cities of Calgary, Lethbridge, Medicine Hat, Airdrie and Brooks.
Alberta Land-Use Framework
In September 2014, the South Saskatchewan Regional Plan, or SSRP, became the second Regional Plan to be adopted by the Government of Alberta. The SSRP applies to some 84,000 square kilometers of southern Alberta, and incorporates 84 municipalities and First Nations and nearly two million people. 
The SSRP outlines environmental, economic and social values and outcomes for this region of the province in line with the Land Use Framework. The Land Use Framework is a provincial level strategy document designed to reduce conflict between competing demands for our land and resources.
All land use planners and decision-makers within the South Saskatchewan region, including at the City of Lethbridge, are required to demonstrate compliance with the strategic vision and outcomes of the SSRP when carrying out their normal functions and duties.
Progress
The City of Lethbridge is required to submit a statutory declaration to the province before September 1, 2019 to state that we have completed a review of our planning and policy instruments and that they are compliance with the SSRP.
The City of Lethbridge, led by Planning and Development has started a series of data gathering and analysis projects. These projects will help the City understand what the vision of the SSRP means for our community, and to ensure we can confidently declare our compliance with it by the 2019 deadline.
SSRP Info Sheet - available for Download
SSRP Map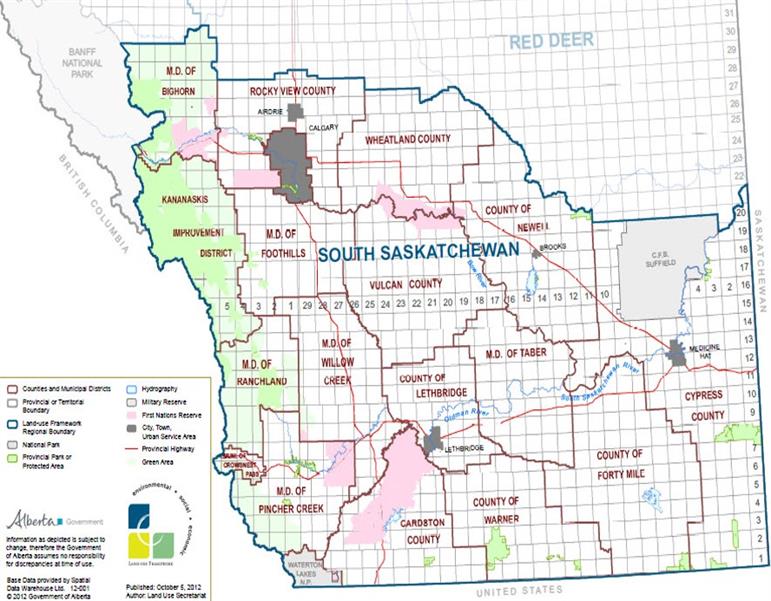 Documents
Environmental and Historic Resources Strategy
Traditional Knowledge and Land Use Assessment
Traditional Knowledge and Land Use Assessment (Video)
Contact Us
City Hall
910 4 Avenue South
Lethbridge, AB T1J 0P6
Phone: 311
or 403-320-3111 (if outside of Lethbridge)