Park Meadows School has two fantastic playgrounds with many features that all children will enjoy. The Playground of Caring features fully accessible rubber surfacing, picnic area and ramps, music, slides, climbing webs, disc swings and so much more. There is something at this playground for every child to explore.
The second playground has been a long time favourite with the neighbourhood, and contains more slides, monkey bars and climbing activities on modified wood fiber surface.
The school yard also has four child sized soccer pitches and two child size baseball diamonds. Scheduled play on all sports fields must be pre-booked through Recreation and Culture.
Please note: dogs are not permitted on school or sports fields.
Click here for a printable version of the Park Meadows School Park features.
Amenities
Swings
Baseball
Basketball
Soccer
Open space
Location
50 Meadowlark Blvd North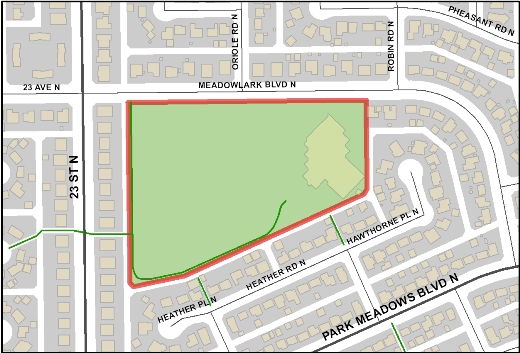 Other Nearby Parks
Contact Us
City Hall
910 4 Avenue South
Lethbridge, AB T1J 0P6
Phone: 311
or 403-320-3111 (if outside of Lethbridge)