Peenaquim Park is a large river valley park home to limestone pathways, incredible views of the Oldman River, coulees, and a popular off leash dog area, it is also home to a challenging 18-hole disc golf course.
Peenaquim Park Off Leash Area
The off leash area is located at the north end of the park and offers both an open and enclosed option for exercising your dogs off-leash.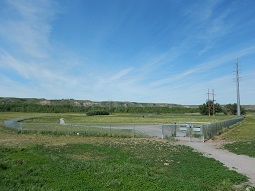 The enclosed training area near the parking lot is great for socializing young dogs and those that may not be ready for the open area. Outside of the enclosure are 2 km of limestone trails that loop around the north end of Peenaquim Park and follow the river.
Dog waste bags, garbage bins and benches are located throughout the park for convenience.  
There are a few rules that are to be adhered to while using the off leash area:
     1.    Dog owners may exercise their dogs without a leash in the area shown on the map.
     2.    To avoid conflicts with other users, keep your dog on a leash until you are in the designated area.
     3.    If you exercise your dog without a leash, you must be in control of your dog at all times.
     4.    You are required to clean up after your dogs at all times. 
     5.    Be respectful of other users, be safe and have fun!

The Parks Department tree mulching area is also located near the parking lot of the off-leash park and free mulch is available for all residents of Lethbridge to pick up for their personal landscaping.
Softball Valley 
Softball Valley is located at the south end of Peenaquim Park and is leased to the softball association. It is home to a number of leagues and tournaments throughout the year.  
Peenaquim Disc Golf Course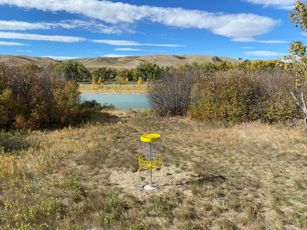 The 18-hole course is built over 62 acres, offers concrete tee pads and prodigy T2 champion level baskets.
Park Amenities
Location
Entrance from Stafford Drive or Scenic Drive North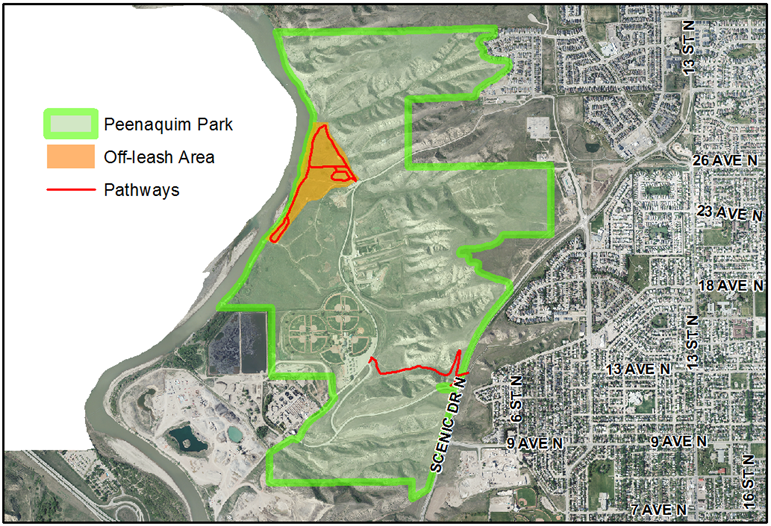 Other Nearby Parks
Contact Us
City Hall
910 4 Avenue South
Lethbridge, AB T1J 0P6
Phone: 311
or 403-320-3111 (if outside of Lethbridge)